Woocommerce Product Disclaimer
Adding Product disclaimar popup in your woocommerce store
Woocommerce extension where you can set some products to accept terms and conditions before adding product to cart. When you click add to cart disclaimer pop up appears asking customer to agree the terms and conditions before product gets added to cart. If customer click accept product is added to cart and if customer decline product does not get added to cart.
Plugin have ability to set different disclaimer text or terms and conditions text for simple / variable products and set disclaimer text to apply on all products, by category or specific product.
Product Disclaimer helps you to display terms and condition or any other message which suppose to be shown before user add that product in a cart. It supports the following products types of WooCommerce.
Simple Product
Variable Product
Bookable Product
Subscription Product
Just take few easy steps to implement disclaimer as per your requirement and add a disclaimer popup on your WooCommerce store products. There are different ways to trigger disclaimer as per product, per category or globally (one disclaimer for all products).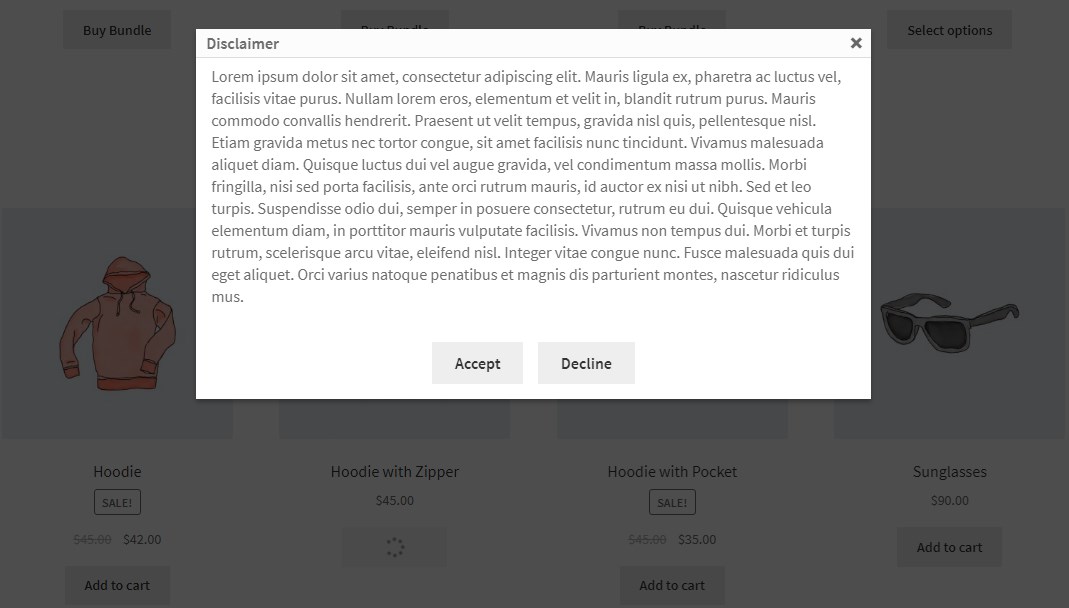 Features
Add a global disclaimer that will be shown to all products.
Add disclaimer per category.
Add disclaimer per product.
Change the color scheme of disclaimer popup to give an attractive look.
Add a disclaimer to subscription product type.
Add a disclaimer to booking product type.
Add a disclaimer to simple product type.
Add a disclaimer to variable product type.
Changelogs
Version :  1.0
Initial release.